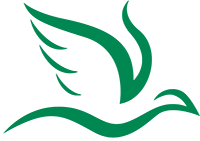 In the News
Evergreen Trust Purchases Vinton's Mountain View Cemetery
Vinton – Hilda Basham, president and owner of Vinton's Mountain View Cemetery Co., Inc., with daughter Sandra Feazell at her side, retired from the family business with the stroke of a pen, turning her landmark Vinton property over to the owners of Roanoke's Evergreen Burial Park. Donald Wilson, president of Evergreen Development Co., Inc., signed for the new owners.
The acquisition of the 30-acre Vinton cemetery expands Evergreen's already substantial presence in the region. In addition to its premier property, the 54-acre Evergreen Burial Park in Roanoke, the company has in recent years, under Wilson's guidance, expanded to purchase cemeteries and mausoleums in Boones Mill and Buena Vista. The company recently adopted "Evergreen Memorial Trust" as the operating name embracing all company properties.
"I am particularly gratified," noted Mrs. Basham, "the family-oriented service we've provided families will continue under Evergreen, which has its own recognized tradition of warm, personal care." She added, "Evergreen's high level of respect and professionalism in our industry was certainly a compelling and comforting factor in passing our business on to them."
Mountain View, established in the late 1890s as Vinton Burial Park, currently has some 18,000 interments. Evergreen Burial Park was established in 1916 and currently has 24,000 interments. Both locations have substantial available spaces.
Mr. Wilson indicated Evergreen plans to invest in a number of improvements at Mountain View, including new landscaping and perimeter fencing. Additionally, Wilson noted Mountain View will become a full-service burial park, offering new service options and complete cemetery arrangements, as well as sales of burial vaults and granite monuments and markers. Mountain View also offers a section for burial of and memorializing owners' pets.
In addition to Evergreen Burial Park and Mountain View Cemetery, Evergreen Memorial Trust owns and operates Mountain View Memorial Park in Boones Mill and the Green Hill Mausoleum in Buena Vista. The Boones Mill location also includes Forest Rest, the only natural burial grounds in the extended region. Natural or "green" burials appeal to environmentally conscious individuals who prefer simpler final arrangements that eliminate embalming, vaults, non-biodegradable coffins and elaborate markers or monuments.